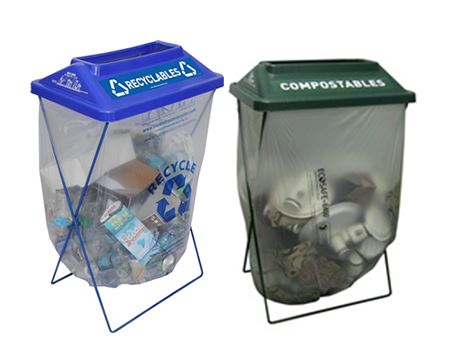 Churches, schools, towns and anyone planning events in Porter County can encourage their guests to recycle aluminum cans and plastic bottles by using recycling event containers, provided free of charge by the Recycling and Waste Reduction District of Porter County.
The district lends out ClearStream recycling collection containers that can be placed next to garbage cans in high traffic areas at events. The district even supplies the clear plastic bags that fit into the collection containers.
"When presented with the option to recycle their waste, most guests choose to do the right thing," said Therese Davis, executive director of the district. "Organizations and individuals without a supply of recycling containers or the money to purchase them need only borrow ours."
The containers are perfect to use at fundraisers, church functions, block parties, street fairs, picnics, baseball games and tournaments, open houses, and any gatherings that could potentially generate large amounts of waste. No event is too small to borrow containers. By allowing event guests to separate their waste, organizations can help prevent large amounts of waste from ending up in landfills.
To borrow the containers, call the district, 219-465-3695, at least one week prior to the event to confirm the availability of the number of ClearStream containers necessary. Once reserved, renters can download a reservation agreement from the district's website, www.ItMeansTheWorld.org, sign the form and return it into the district.  More information on the program is available on the district's website, www. ItMeansTheWorld.org.
The Recycling and Waste Reduction District of Porter County is a government agency dedicated to improving the environment and quality of life for Porter County residents by providing convenient, voluntary waste reduction programs. The district promotes environmental stewardship among individuals and businesses through education programs, waste reduction services and other outreach programs to meet the statutory waste reduction goals set by the State of Indiana.