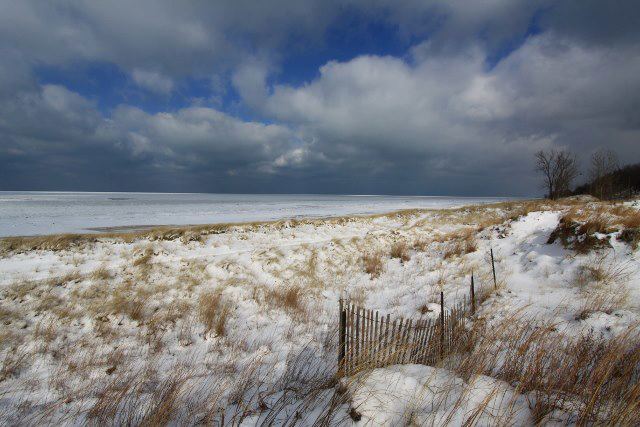 Host Kathy Sipple speaks with photographer Pete Doherty owner of Doherty Images, LLC.
---
Listen to the interview

---
I find the dunes to be very peaceful and therapeutic environment…kind of mystical in a way.

It looks different every time you go, in terms of how the light hits it and how the wind is blowing. And that's what makes these trips out to the dunes so interesting for me. I go out there quite a bit, but it can be different every time.

The color of the water can be different–there can be variations of blues and greens in the water. If you go out after a big storm the water can be kind of murky. It all changes.  That's kind of what I like about it.

I look at photographing scenic shots like some look at fishing. Fish come to you–that's how I look at photography. Fisherman brag about what they "pulled in" — but the fish really come to you. The same is true for me… I go out there searching for shots, but essentially they come to me.

You have to be watchful and sense when things are changing. You might be able to capture a really cool shot depending on how the light is hitting. I like going out there when the sun is going in and out of clouds — it creates some filters which are very unique. Sometimes only for a few seconds. Those are the shots I get the most comments on. ~ Pete Doherty
Pete specializes in Chicago lakefront and Indiana Dunes photography. He enjoys sharing Northwest Indiana's natural beauty through his photographs.
Pete's work has been exhibited at South Shore Arts in Munster, Gallery One in Chesterton, Galaxy Arts in Munster, Towle Theatre in Hammond, as well as in many area hospitals, libraries and retail establishments.
Mentioned in this episode: