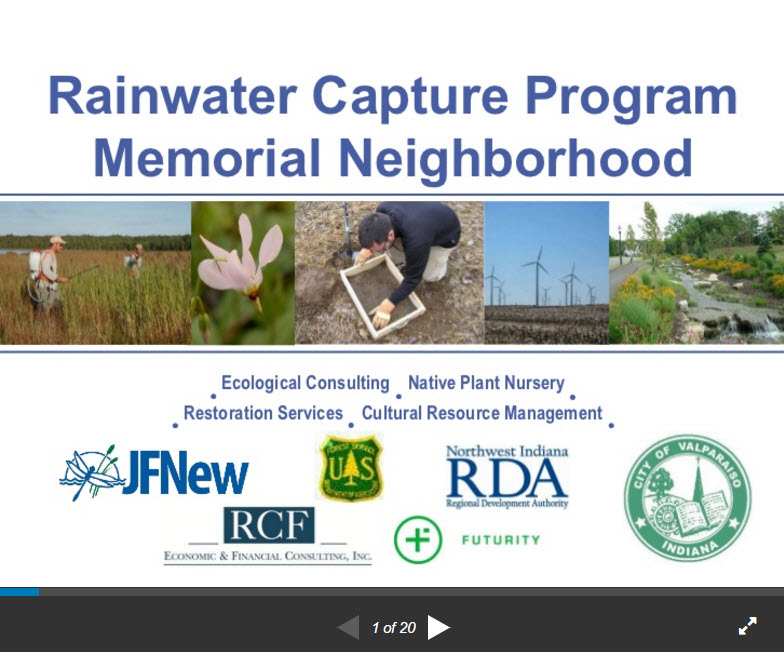 The Great Lakes region is intimately connected to one of the largest fresh water systems on Earth, a full 20% of the world's fresh surface water. Unfortunately, this great privilege is being threatened by the leading source of water pollution: incorrect management of rain and storm water.
Communities can take action against rain and snow melt flowing off of our yards, roofs, and sidewalks and washing pollution into our water systems. Rain gardens are designed to collect and absorb runoff from a roof or parking lot, the way nature intends rain to soak into the soil.
Rain Gardens naturally protect our water sources and look great doing it!
By planting a rain garden, you can help reduce water pollution in your community!
Fun fact: When Green Drinks was resurrected in 2011 after a few years of being on hiatus, the first program we hosted was Rod Ginter from Cardo JFNew, who presented on the reverse auction Valparaiso was doing in the Memorial Neighborhood to help residents there make rain gardens and bioswales more affordable. The idea was that if enough people installed rain gardens, the city could avoid the significant expense of digging up the streets to install wider storm drain pipes since sufficient storm water run off would be managed by the rain gardens that the current pipes would be able to handle the reduced flow.
To see the slide deck from that presentation, click the image below.